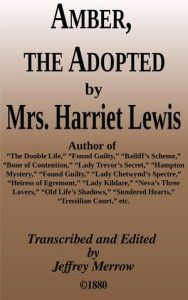 As the adopted daughter or Sir John Courtney, baronet, Amber Courtney has been raised to look upon Ralph Courtney, the baronet's only son, as her future husband.
Scheming Jasper Longley and his sister Blanche have made other plans, and when Sir John is away from home, they soon have Amber ejected from the mansion to earn her own living.
Written by Mrs. Harriet Newell (O'Brien) Lewis (1841-1878),  author of "The Double Life," "Found Guilty," "Bailiff's Scheme," "Bone of Contention," "Lady Trevor's Secret," "Lady Chetwynd's Spectre," "Heiress of Egremont," "Lady Kildare," "Neva's Three Lovers," "Old Life's Shadows," "Sundered Hearts," "Tressilian Court," etc. and published in 1880 by J. S. Ogilvie and Company.
Transcribed and edited by Jeffrey Merrow. 42 Chapters, 392 pages, 93,400 words.
Amber, The Adopted for Kindle at Amazon
Amber, The Adopted epub for Nook at Barnes and Noble
Amber, The Adopted epub at Kobo
Chapters:
I. — A Woman and a Child.
II. — The Baronet's Cousin.
III. — Jasper Longley Gains Some Information.
IV. — Brother and Sister.
V. — Tricksters Comparing Notes.
VI. — Captured by Brigands.
VII. — The Father's Request.
VIII. — The False Friend.
IX. — Evil Tidings.
X. — The Necklace.
XI. — A Treacherous Scheme.
XII. — "Is He Going to be Married?"
XIII. — An Artless Girl's Gratitude.
XIV. — The New Governess.
XV. — A Hasty Suitor.
XVI. — "I Am Sure to Win Him!"
XVII. — The Valet's Plan.
XVIII. — Imprisoned.
XIX. — A Spurned Bribe.
XX. — The Schemers in Council.
XXI. — An Artful Damsel.
XXII. — The Profligate's Proposal.
XXIII. — The Drugged Wine.
XXIV. — The Brand of Shame.
XXV. — "I Have no Friend but You!"
XXVI. — A Woman on the Rack.
XXVII. — An Unwelcome Visitor.
XXVIII. — A Strange Woman.
XXIX. — Jasper Discovers a Rival.
XXX. — The Brigands.
XXXI. — The Invalid.
XXXII.— A Surgical Operation.
XXXIII.— Il Diavolo and Blanche.
XXXIV. — "She is my Lawful Wife!"
XXXV. — The Innkeeper's News.
XXXVI. — "I Am That Woman"
XXXVII. — The Price of Silence.
XXXVIII. — An Inopportune Arrival.
XXXIX. — "This Woman is Already Married!"
XL. — "Behold Your Daughter!"
XLI. — A General Surprise.
XLII. — A Hasty Wooing.