At the appearance of an heretofore unknown rival, young Lady Nora Kildare suddenly loses her entitlement to Castle Kildare.
Written by Mrs. Harriet Newell (O'Brien) Lewis (1841-1878) and copyright 1870 by Robert Bonner.
Also previously printed in serial form as "The Dublin Lawyer."
Transcribed and edited by Jeffrey Merrow from the 1889 New York printing.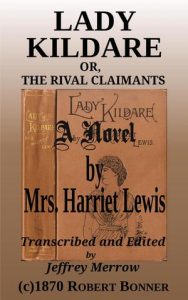 Lady Kildare for Kindle at Amazon
Lady Kildare epub for Nook at Barnes and Noble