"The Test of Love" resumes the tale of the young Earl of Hawkewood and his sweetheart, Seraph Elfinstar, having been abruptly interrupted at the conclusion of "A Tortured Heart," thus concluding "The Trail of the Serpent" trilogy.
Written by Emma Dorothy Eliza Nevitte Southworth (1819–1899) and first copyright in 1879 by Robert Bonner.
Transcribed and edited by Jeffrey Merrow from the A. L. Burt printed edition. 35 chapters. 306 pages. 122,000 words.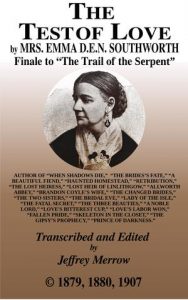 The Test of Love for Kindle at Amazon
The Test of Love epub for Nook at Barnes and Noble
Chapters:
I. – A Girl's Tragedy.
II. – An Old Man's Fate.
III. – "As a Spirit."
IV. – An Embarrassing Encounter.
V. – At the Gold Diggings.
VI. – The Lovers.
VII. – A Lover's Faith.
VIII. – Another Mad Meeting.
IX. – What Ham Gow Saw One Night.
X. – Reviving Hope.
XI. – On the Trail.
XII. – Back to Hawkewood.
XIII. – At Hawke Hall.
XIV. – The Haunted Well.
XV. – The Specter.
XVI. – The Haunted Well at Midnight.
XVII. – Within the Manor House.
XVIII. – "Weird Women."
XIX. – The Detective and the Witness.
XX. – Flight and Pursuit.
XXI. – Hidden.
XXII. – Run to Cover.
XXIII. – In the Confessional.
XXIV. – The Fiat.
XXV. – The Fate.
XXVI. – Vindication.
XXVII. – Success!
XXVIII. – Ham Gow's Great Grievance.
XXIX. – The Birthday.
XXX. – Amazement.
XXXI. – A Dark Defense.
XXXII. – Discharged.
XXXIII. – The Triumphal Entry.
XXXIV. – Love's Long Suspense.
XXXV. – The Surprise.