The Trail of the Serpent; or, The Homicide at Hawke Hall
The young Earl of Hawkewood is found murdered on the morning following his nineteenth birthday festivities.
Written by Emma Dorothy Eliza Nevitte Southworth (1819–1899) and first copyright in 1879 by Robert Bonner.
Transcribed and edited by Jeffrey Merrow from the A. L. Burt printed edition. 30 chapters. 306 pages. 104,000 words.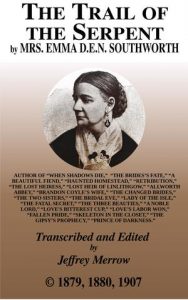 The Trail of the Serpent for Kindle at Amazon
The Trail of the Serpent epub for Nook at Barnes and Noble
The Trail of the Serpent epub at Kobo
Chapters:
I. – The Ruined Tower and its Tenant.
II. – The Fatal Birthday Fête.
III. – Horror and Mystery.
IV. – A Mysterious Disappearance.
V. – The Apparition of the Ruined Tower.
VI. – The Inmate of the Cavern.
VII. – What Lady Volante Saw.
VIII. – What the Fishermen Say They Saw.
IX. – Mad Ham.
X. – Conflicting Testimony.
XI. – The Three Mysteries.
XII. – The Strange Lady at Stony Fells.
XIII. – The Caged Beauty.
XIV. – Castle Belle Isle.
XV. – Berry Irvine's Danger.
XVI. – Demondike Gives Up the Secret.
XVII. – The Mystery Deepens.
XVIII. – In the Palace Zavieski.
XIX. – The Perplexed Community.
XX. – Visions.
XXI. – Found.
XXII. – The Earl and Countess at Home.
XXIII. – The Most Brilliant Match of the Season.
XXIV. – In the Corridor.
XXV. – Driven into Delirium.
XXVI. – "I Will Not Live With Him."
XXVII. – The Bride's Hate.
XXVIII. – At Belle Isle.
XXIX. – The Apparition in the Park.
XXX. – The Witch at Work.