"A Tortured Heart" resumes the mystery surrounding the young Earl of Hawkewood where it paused at the conclusion of "The Trail of the Serpent."
Written by Emma Dorothy Eliza Nevitte Southworth (1819–1899) and first copyright in 1879 by Robert Bonner.
Transcribed and edited by Jeffrey Merrow from the A. L. Burt printed edition. 36 chapters. 356 pages. 127,000 words.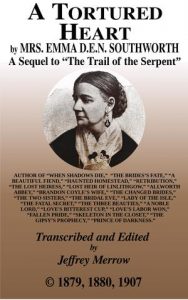 A Tortured Heart for Kindle at Amazon
A Tortured Heart epub for Nook at Barnes and Noble
Chapters:
I. – "Follow This Man."
II. – A Terrible Night and Day.
III. – A Day of Doom.
IV. – The Lovers.
V. – A Little Light on a Dark Mystery.
VI. – The Secret Out.
VII. – Lovers and Husbands.
VIII. – "The Dead Alive."
IX. – Mother and Daughter.
X. – A Tempted Life.
XI. – Berry's Deadly Peril.
XII. – The Fears of a Guilty One.
XIII. – "All is Over."
XIV. – Face to Face.
XV. – A Strange Encounter.
XVI. – Ham Gow Again.
XVII. – "No. 4444"
XVIII. – The Fugitive.
XIX. – The Lovers' Parting.
XX. – Gold.
XXI. – Meeting an Old Friend.
XXII. – Revealing a Mystery.
XXIII. – In the New Gold Fields.
XXIV. – "Foregathered wi' the De'il!"
XXV. – The Mystic Mountain Home.
XXVI. – A Deathbed Revelation.
XXVII. – A Mystery Cleared Up.
XXVIII. – In his Father's House.
XXIX. – While Life, Hope.
XXX. – Mercy.
XXXI. – The Chaplain's Success.
XXXII. – The House's Mystery.
XXXIII. – Love in a Wilderness.
XXXIV. – At Peace.
XXXV. – Three Little Words.
XXXVI. – The Hidden Woe.