"When Shadows Die" resumes the story of the Force family from where it paused at the conclusion of "Love's Bitterest Cup."
Written by Emma Dorothy Eliza Nevitte Southworth (1819–1899) and first Copyright in 1882.
Transcribed and edited by Jeffrey Merrow from the Burt edition. 287 pages; 84,000 words.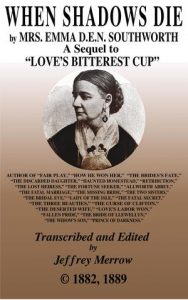 When Shadows Die for Kindle at Amazon
When Shadows Die paperback from Amazon
When Shadows Die epub for Nook at Barnes and Noble
Contents:
Meeting and Parting.
Startling News.
The News.
Rosemary is Startled.
The Earl is Startled.
A Strange Meeting.
An Old Salt.
The Loss of the "Kitty."
The Sea King's Daughter."
The Privateer "Argente."
Where is Roland?
On To Washington.
The Captain of the "Argente."
Who He Was.
Leonidas.
The Old Skipper's Despair.
On Board the Prize.
A Terrible Revelation.
The Bitterness of Death.
"When Lovers Meet in Adverse Hour."
Country Visitors.
New Hope.
Too Great a Burden.
A New Mother.
Father and Daughter.
Brighton Years Ago.
Luigi Saviola.
A Mad Act.
After the Marriage.
Awakening.
Pretended Consolation.
A Wolf in Sheep's Clothing.
How it Happened.
Father and Daughter.
A Shock.
"Tell Me All."
The Dawn of a Brighter Day.New Life.
A Clouded Honeymoon.
A Startling Encounter.
The Other Side.
The Earl's Discovery.
Husband and Wife.
Love Stronger Than Fate.
Winding Up.
Revelations.
Mother and Son.
The Meeting of Old Friends.
A Double Wedding at All Faith.