"Love's Bitterest Cup" resumes the story of the Force family from where it paused at the conclusion of "Her Mother's Secret."
Written by Emma Dorothy Eliza Nevitte Southworth (1819–1899) and first Copyright in 1882.
Transcribed and edited by Jeffrey Merrow from the Burt edition. 305 pages; 91,000 words.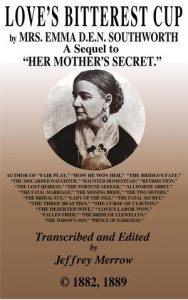 Love's Bitterest Cup for Kindle at Amazon
Love's Bitterest Cup paperback from Amazon
Love's Bitterest Cup epub for Nook at Barnes and Noble
Love's Bitterest Cup epub at Kobo
Chapters:
A Wedding Frolic at Forest Rest.
Odalite.
Rosemary.
After a Lapse of Time.
The Fortunes of Odalite.
News From Col. Anglesea.
The Earl of Enderby.
Anticipations.
Valentine's at Mondreer.
The Box.
"Merry as a Marriage Bell."
The Marriage Morn.
"A Quiet Wedding."
A Mean Retaliation.
The Writ of Habeas Corpus.
The Next Morning.
Before the Judge.
The Other Side.
Le's "Coup."
After the Ordeal.
Preparing to Leave.
Farewell Visit to Mondreer.
Le's Plan.
What Followed the Return.
The First Visitors.
Le's Departure.
Luce's Discovery.
Forbidden Love.
"Once More Upon the Waters."
Enderby Castle.
Mrs. Force's Brother.
An Anxious Search.
A Clew.
Anglewood Manor.
A Secret Witness.
Anglewood Old Church.
The Tomb's Evidence.
Tale Told By The Portraits.
"Smugglery."
Le's Despair.
The Earl's Perplexity.
Enderby Castle. (ed. again?)
Wynnette's Strange Adventure.
At Midnight in the Haunted Castle.
Told in the Old Hall.
A Dream Within a Dream.
The End of the Night.
Old Zillah.
Brother and Sister.