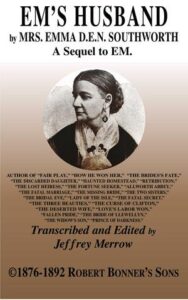 "Em's Husband" resumes the story of Emolyn Wyndeworth and Emolyn Palmer where it paused at the conclusion of "Em."
Written by Emma Dorothy Eliza Nevitte Southworth (1819–1899) and copyright 1876 by Robert Bonner.
Transcribed and edited by Jeffrey Merrow, 37 chapters, 110,000 words.
Em's Husband, Kindle edition at Amazon
Chapters:
I. To the Island.
II. The Agent.
III. The Red Wing.
IV. Red Wing.
V. Ronald Bruce.
VI. The Guest.
VII. A Proposal.
VIII. Em at the Commodore's.
IX. "The Course of True Love."
X. Surprise.
XI. Hidden Love.
XII. Love in the Toils.
XIII. "Old Heads and Young Hearts."
XIV. Cruel to be Kind.
XV. Home Again.
XVI. Proposals.
XVII. The Rescue.
XVIII. The Lady of Edengarden.
XIX. The Good Fairy.
XX. Revival.
XXI. The Wheel of Fortune.
XXII. Hope.
XXIII. Emolyn's Weird.
XXIV. A Good Fairy.
XXV. Em's New Home.
XXVI. A Fairy Bower.
XXVII. Em's Days at Edengarden.
XXVIII. A Visit to The Breezes.
XXIX. Bearding the Lion in His Den.
XXX. The Meeting.
XXXI. A Startling Visitor.
XXXII. The Tramp's Story.
XXXIII. Welcome.
XXXIV. Father and Son.
XXXV. A Sudden Summons.
XXXVI. A Startling Story.
XXXVII. Conclusion.