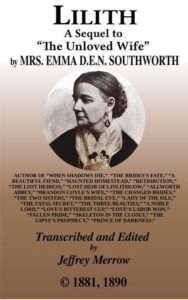 "Lilith" resumes the story of Tudor Hereward and his estranged wife from where it paused at the conclusion of "The Unloved Wife."
Written by Emma Dorothy Eliza Nevitte Southworth (1819–1899) and Copyright ©1881 by Robert Bonner.
Transcribed and edited by Jeffrey Merrow from the A. L Burt print edition.
Chapters:
I. Old Adah's Secret.
II. New Hope.
III. The Night-passenger's News.
IV. A Startling Visit.
V. Lilith's Flight.
VI. Lilith's Fidelity.
VII. Lilith's Struggles.
VIII. Lilith's First Place.
IX. Lilith and the Baroness.
X. In her True Colors.
XI. The Fair Rivals.
XII. Native Land Adieu.
XIII. Lilith Reveals Herself.
XIV. Lilith's Metamorphosis.
XV. World-weary.
XVI. "A Full Vindication."
XVII. Coming to a Crisis.
XVIII. Surprise on Surprise.
XIX. Ancillon's Revelations.
XX. Unexpected Meeting at a Wedding.
XXI. That Startling Introduction.
XXII. Love's Ovation.
XXIII. Happy Hours.
XXIV. The Story of a Wild Life.
XXV. A Fatal Snare.
XXVI. The Meeting of the Young Pair.
XXVII. The Trial.
XXVIII. In the Toils of Fate.
XXIX. Deliverance.
XXX. Out of the Snare and On the Wing.
XXXI. Conclusion.