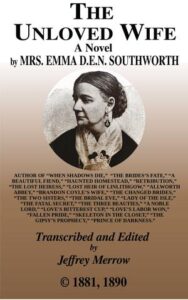 To fulfill a dying wish of his father, twenty-seven year old rising statesman Tudor Hereward, Jr., is rushed into a marriage with his father's young ward, Lilith Wyvil.
Written by Emma Dorothy Eliza Nevitte Southworth (1819–1899) and copyright 1880 by Robert Bonner's Sons.
Transcribed and edited by Jeffrey Merrow from the A. L. Burt printed edition. 38 chapters. 354 pages. 104,600 words.
The Unloved Wife for Kindle at Amazon
"The Unloved Wife" in the original newspaper serial contains 69 chapters. Street and Smith's "The New Southworth Library," divides the tale into three volumes. The Ledger Library, and A. L. Burt versions divide the story into only two volumes, "The Unloved Wife" and "Lilith."
Chapters:
I. The Sudden Summons.
II. Lilith.
III. "A Moment More and They shall Meet."
IV. The Sacred Debt.
V. A Proposal of Marriage.
VI. Another Proposal of Marriage.
VII. Lilith's Discovery.
VIII. Lilith's Fatal Legacy.
IX. The Overshadowing Past.
X. A Family Crank.
XI. The Mystery.
XII. Danger.
XIII. Parting.
XIV. An Unexpected Meeting.
XV. Warning.
XVI. Lilith's Loneliness.
XVII. "Foregathered wi' the De'il"
XVIII. Lilith is Summoned.
XIX. "Not Easily Jealous."
XX. "Perplexed in the Extreme."
XXI. The Meeting on the Train.
XXII. Will he Love her?
XXIII. A Busy Bee.
XXIV. Lilith at the Capitol.
XXV. Drawn to the Brink.
XXVI. "The Green-eyed Monster"
End Street and Smith edition, "The Unloved Wife."
Begin Street and Smith edition, "When the Shadow Darkens."
"When the Shadow Darkens."
XXVII. The Shadow Darkens.
XXVIII. Wronged Love.
XXIX. The Storm Gathers.
XXX. Tudor Hereward's Resolve.
XXXI. On the Brink.
XXXII. A Thunderbolt.
XXXIII. Doomed.
XXXIV. Driven to Desperation.
XXXV. Gone.
XXXVI. A Terrible Discovery.
XXXVII. At Peace.
XXXVIII. The Thunderbolt.