A Sequel to "Fair Play"
"How He Won Her" resumes the story of Britomarte Conyers, Justin Rosenthal and friends from where it paused at the conclusion of "Fair Play."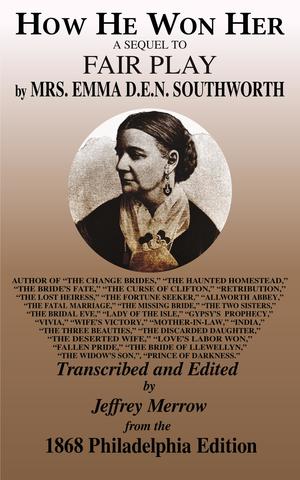 Written by Emma Dorothy Eliza Nevitte Southworth (1819–1899). Transcribed from the 1868 T. B. Peterson edition. 45 chapters, 512 pages, 145,000 words.
How He Won Her for Kindle at Amazon
Chapters:
I. – Erminie's Story.
II. – The Veteran's Return.
III. – Justin Enlists.
IV. – The Soldier's Love.
V. – The Lovers' Parting.
VI. – The Guerrilla's Wife.
VII. – About Alberta.
VIII. – About Britomarte.
IX. – An Unexpected Guest at a Picnic.
X. – As the Lion Woos his Bride.
XI. – A Moonlight Flight.
XII. – The Outlaw's Love.
XIII. – The Alarm.
XIV. – The Flight.
XV. – Colonel Rosenthal.
XVI. – The Meeting.
XVII. – The Guerrilla's Encampment.
XVIII. – Monck.
XIX. – A Cold-blooded Sentence.
XX. – The Whisper.
XXI. – The Mountain Camp.
XXII. – The March.
XXIII. – The Battle.
XXIV. – The Fate of the Free Sword.
XXV. – After the Battle.
XXVI. – Elfie in the Grove.
XXVII. – Requiescat in Pace.
XXVIII. – Elfie's Return.
XXIX. – Elfie's Visit to Little Mim.
XXX. – An Unexpected Meeting in the Hospital.
XXXI. – Poor Elfie's Honeymoon.
XXXII. – "The Rebel Rides on his Raids No More."
XXXIII. – At Peace.
XXXIV. – Wing's Gallant Charge.
XXXV. – Death Lights.
XXXVI. – The Death Watch.
XXXVII. – The Ghostly Visitor.
XXXVIII. – Elfie's Vision.
XXXIX. – Bob's Spectre.
XL. – On the Battle Field.
XLI. – The Surprise.
XLII. – "The Beginning of the End."
XLIII. – Deliverance At Last.
XLIV. – After a While.
XLV. – The Woman's Dearest Right.