Upon graduation from Bellemont College, four fast friends, the four "Belles of Bellemont" agree to maintain communications with each other. Britomarte Conyers, the "man-hater," decides to remove herself from society by joining a missionary party to remote India.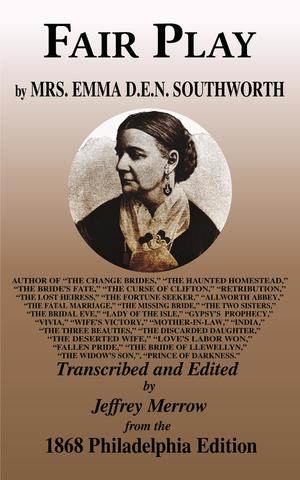 Written by Emma Dorothy Eliza Nevitte Southworth (1819–1899). Transcribed from the 1868 T. B. Peterson edition. 52 Chapters, 643 pages, 199,000 words.
Fair Play for Kindle at Amazon
Chapters:
I. – The Four Belles of Bellemont.
II. – The Man-Hater's Lover.
III. – A Mysterious Letter.
IV. – The Witch of Witch Elms.
V. – The Rainbows.
VI. – Britomarte's Fate.
VII. – Woman's Love and Woman's Rights.
VIII. – Britomarte's Plan.
IX. – Britomarte Embarks.
X. – Life on the Ship.
XI. – A Stunning Encounter—A Lover's Persistence.
XII. – A Lover's Boundless Faith and Hope.
XIII. – Misadventure of the Man-Hater.
XIV. – Porto Praya.
XV. – Once More Upon the Waters.
XVI. – The Gale.
XVII. – A Villa in Cape Colony.
XVIII. – The Hurricane.
XIX. – The Rocks.
XX. – Lady Robinson Crusoe.
XXI. – Left to His Fate.
XXII. – On the Island.
XXIII. – A Meeting by Moonlight.
XXIV. – Making the Best of it.
XXV. – Saving the Stores.
XXVI. – Mystery.
XXVII. – Erminie's Trials.
XXVIII. – Another Love Chase.
XXIX. – Success in the Chase.
XXX. – Elfrida's Arrival.
XXXI. – Another Trial for Elfie.
XXXII. – Erminie's Great Sorrow.
XXXIII. – On the Desert Island.
XXXIV. – Resignation.
XXXV. – A Strange Sail.
XXXVI. – The Captain of the Sea Scourge.
XXXVII. – At Bay.
XXXVIII. – The Caged Tiger.
XXXIX. – Britomarte's New House.
XL. – The Old Familiar Flag.
XLI. – The Guests.
XLII. – The Pirate Speaks for Himself.
XLIII. – Leaving the Island.
XLIV. – The Cruise.
XLV. – The Chase.
XLVI. – The Flight.
XLVII. – Victory.
XLVIII. – Expiation.
XLIX. – A Ghost Appears to Judith.
L. – Homeward.
LI. – Native Land.
LII. – Home Again.