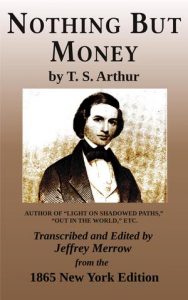 The pursuit of fortune is the guiding force for Adam Guy. He attempts to enforce its precepts upon his wife and young family, and avarice decidedly shapes the course of his life.
Written by Timothy Shay Arthur (1809 – 1885) and first published in Arthur's Home Magazine in 1861.
Transcribed and edited by Jeffrey Merrow from the 1865 Carleton edition. 35 chapters; 352 pages; 84,700 words.
Nothing but Money for Kindle at Amazon
Nothing but Money epub for Nook at Barnes and Noble