"The Mysterious Marriage" resumes the story of Ora Orkney, along with Belvidera and her friends from where it paused at the conclusion of "A Leap in the Dark."
Written by Emma Dorothy Eliza Nevitte Southworth (1819–1899) and copyright 1881, 1889, 1893 by Robert Bonner's Sons.
Transcribed and edited by Jeffrey Merrow from the A. L. Burt edition. 40 chapters. 306 pages. 82,000 words.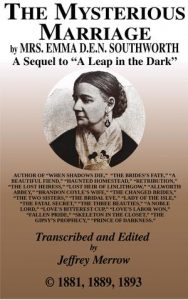 The Mysterious Marriage for Kindle at Amazon
The Mysterious Marriage epub for Nook at Barnes and Noble
The Mysterious Marriage epub at Kobo
Chapters:
I. – Mr. Goodwin's Story.
II. – Startling News.
III. – Old Charley's Fright.
IV. – Another Mysterious Disappearance.
V. – A Mysterious Restitution.
VI. – Ora's Second Adventure in the Haunted Chamber.
VII. – The Wonder Grows.
VIII. – Ora's Last Adventure.
IX. – "A Whisper Broke the Air."
X. – The Whisper Wanders.
XI. – An Unexpected Arrival.
XII. – "Never Rains but it Pours."
XIII. – Conrad and Ora.
XIV. – The Opened Gulf.
XV. – Ora and Bevvie.
XVI. – The Squire's Story.
XVII. – The Proofs.
XVIII. – Fair Weather Friends.
XIX. – All Comes Right.
XX. – Strange Game Started.
XXI. – Brought to Bay.
XXII. – The Wonder of the Woods.
XXIII. – The Hut in the Woods.
XXIV. – Investigation.
XXV. – Come to Light.
XXVI. – Another Discovery.
XXVII. – The Wildwood Waif.
XXVIII. – Bright Days.
XXIX. – Elfish Antics.
XXX. – Christmas.
XXXI. – Love shall be Lord of All.
XXXII. – Prince Frederick's Story.
XXXIII. – The Voyage.
XXXIV. – Storm-Tossed.
XXXV. – The Baron von Engelstedt.
XXXVI. – That Mysterious Marriage.
XXXVII. – Wedding Favors.
XXXVIII. – Bride and Bridesmaids.
XXXIX. – (No title.)
XL. – "One Marriage Makes Many."