During William Harcourt's watch as the hotel clerk of the Crest House, Isle of Storms, one of the hotel guests is found dead in what appears to be a case of suicide.
Written by Emma Dorothy Eliza Nevitte Southworth (1819–1899) and copyright 1885-86 by Robert Bonner.
Transcribed and edited by Jeffrey Merrow from the A. L. Burt printed edition. 27 chapters. 342 pages. 109,500 words.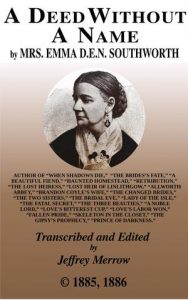 Deed Without A Name for Kindle at Amazon
Deed Without A Name epub for Nook at Barnes and Noble
Deed Without A Name epub at Kobo
Chapters:
I. – The Accusation.
II. – Roma Fronde.
III. – The Isle of Storms.
IV. – The Gamester's Dupe.
V. – "Niobe."
VI. – Roma and her Friends.
VII. – The Meeting.
VIII. – A Sudden Wedding.
IX. – At Dawn of Day.
X. – The Shades of Night.
XI. – At Bay.
XII. – A Surprise.
XIII. – Another Wedding.
XIV. – A Practical Pair.
XV. – In Deadly Danger.
XVI. – To the Rescue.
XVII. – The Nameless Wrong.
XVIII. – Wreck and Ruin.
XIX. – Caught in His Own Trap.
XX. – Goblin Hall.
XXI. – Surprises.
XXII. – Following the Clue.
XXIII. – "Through the Woods."
XXIV. – Taking the Testimony.
XXV. – Waiting the Decision.
XXVI. – "Owlet."
XXVII. – Roma's Family.