The tale of Sir Arthur Tressilian's son and heir Guy Tressilian, and Guy's dastardly companion Jasper Lowder.
Written by Mrs. Harriet Newell (O'Brien) Lewis (1841-1878) and published in serial form in the New York Ledger as "Tressilian Court or The Baronet's Son."
Later published in book form in three volumes by Street and Smith as:
Tresillian Court – Eagle Series No. 344
The Scorned Wife – Eagle Series No. 345
Guy Tressilian's Fate – Eagle Series No. 346
Also printed in serial form as "Jasper Lowder", and in German translation in three volumes entitled "Tressilian Court oder Der Verstoßene."
Transcribed and edited by Jeffrey Merrow from multiple sources.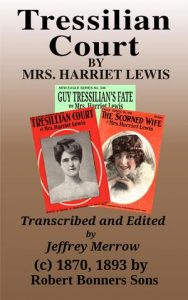 Tressilian Court for Kindle at Amazon
Tressilian Court epub for Nook at Barnes and Noble