"Little Nea's Engagement" resumes the story of the Nerissa Lovel and her friends from where it paused at the conclusion of "Nearest and Dearest."
Written by Emma Dorothy Eliza Nevitte Southworth (1819–1899) and first copyright in 1880 by Robert Bonner's Sons.
Transcribed and edited by Jeffrey Merrow from the Burt edition. 25 chapters, 306 pages; 85,000 words.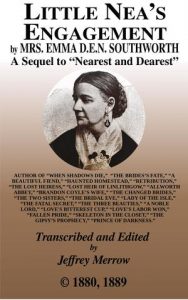 Little Nea's Engagement for Kindle at Amazon
Little Nea's Engagement epub for Nook at Barnes and Noble
Little Nea's Engagement epub at Kobo
Chapters:
Ruth Dunn Mystified.
Neil Carnes' Scheme.
Little Nea's Troubles.
Nea Learns her Fate.
The Midshipman's Return.
Haunting Eyes.
A Startling Encounter.
A Strange Discovery.
A Night Expedition.
Lancelot and Nerissa.
Christmas.
"Time the Avenger."
Time the Rewarder.
Waiting for the End.
Revelations.
A Happy Day.
Marriage Bells.
Ruth Dunn's Home.
That Mystery at the Wolf's Head Tavern.
The Mystery of the Cemetery.
"The Mad Lord."
A Late Reunion.
All is Well.
Reconciliation.
Conclusion.