At the urgent insistence of his relatives Mr. Richard Ffrench, the step-son of the Honorable Robert Charlton of Charleton Place, agrees and marries a young girl in order to avoid any possible hint at impropriety.
Written by May Agnes Fleming (1840-1880); 38 chapters; 396 pages; 127,000 words.
Transcribed and edited by Jeffrey Merrow from the 1878 Carleton edition.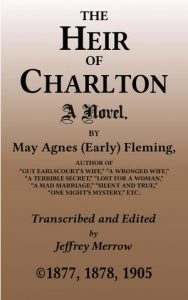 The Heir of Charlton for Kindle at Amazon
The Heir of Charlton epub for Nook at Barnes and Noble
The Heir of Charlton epub at Kobo
Chapters:
[ PART FIRST. ]
I.—Shaddeck Light;
II.—Charlton Place;
III.—A Fairy Tale;
IV.—A Man's Letter;
V.—Before Breakfast;
VI.—After Breakfast;
VII.—In the Cool of the Evening;
VIII.—By the Light of the Moon;
IX.—How the Game was Made;
X.—The End of the Fairy Tale;
XI.—Shaddeck Light;
XII.—An Evening at Shaddeck Light;
XIII.—A Night at Shaddeck Light;
XIV.—A Morning at Shaddeck Light;
XV.—Captain Dick's Wooing;
XVI.—How Dora Does It;
XVII.—A Girl's Letter;
XVIII.—The Days Before;
XIX.—Captain Dick's Wedding;
XX.—Post-Nuptial;
XI.—"The Girl I Left Behind Me."
XXII.—"When Day is Done."
[ PART SECOND. ]
I.—Vera;
II.—A Look Behind;
III.—"Love Took up the Glass of Time."
IV.—At Dawn of Day;
V.—A Summer Afternoon;
VI.—A Summer Night;
VII.—"We Fell Out, My Wife and I."
VIII.—"O, We Fell Out, I Know not Why."
IX.—Charlton Place;
X.—Husband and Wife;
XI.—A Cry in the Night;
XII.—In the Dead Hand;
XIII.—In the Dark Hour;
XIV.—Tracked;
XV.—Trapped;
XVI.—Shaddeck Light.