Marian Grey: The Heiress of Redstone Hall
Child bride Marian Lindsey flees her Kentucky manse believing her new husband loves another more beautiful than she, but has wed her only for her vast estate.
Written by Mary Jane Holmes. Transcribed and edited by Jeffrey Merrow from the 1865, New York edition.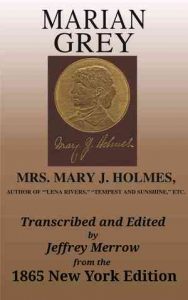 Marian Grey for Kindle at Amazon
Marian Grey epub for Nook at Barnes and Noble
CHAPTERS.
I – Guardian and Ward.
II. – Father and Son.
III. – Death at Redstone Hall.
IV. – Keeping the Promise.
V. – The Bridal Day.
VI. – Reading the Letter.
VII. – The Alarm.
VIII. – Marian.
IX. – Isabel Huntington.
X. – Frederic and Alice.
XI. – The Letter Received.
XII. – The Yankee Peddler.
XIII. – Plans.
XIV. – The Effect.
XV. – The House on the River.
XVI. – The Fever.
XVII. – The Search.
XVIII. – Home Again.
XIX. – The Governess.
XX. – Will Gordon.
XXI. – Will's Wooing.
XXII. – The Birthday.
XXIII. – Marian Raymond.
XXIII. (chapter number duplicated) – Frederic and Alice Visit Marian's old Home.
XXIV. – The Meeting.
XXV. – Life at Riverside.
XXVI. – Redstone Hall.
XXVII. – Telling Alice.
XXVIII. – Telling Frederic.
XXIX. – Ben.
XXX. – Summing Up.