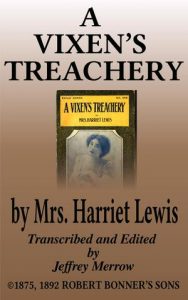 Young Beatrix flees Belgium for England, pursued by her legal guardians who would have her married against her will – or WORSE.
Written by Mrs. Harriet Newell (O'Brien) Lewis (1841-1878) and published in 1892 as "Eagle Series" No. 456.
220 pages; 23 chapters; 61,000 words. Transcribed and edited by Jeffrey Merrow.
A Vixen's Treachery for Kindle at Amazon
A Vixen's Treachery epub for Nook at Barnes and Noble
A Vixen's Treachery epub at Kobo
Contents:
Chapter I. – Beatrix.
Chapter II. – Lost!
Chapter III. – A Face at the Window.
Chapter IV. – Transformation.
Chapter V. – The Way Cleared.
Chapter VI. – At Hand!
Chapter VII. – A Breathing Space.
Chapter VIII. – Settling into her Work.
Chapter IX. – Lady Folliott.
Chapter X. – Forestalled.
Chapter XI. – At Bay!
Chapter XII. – The Usurper's Vow.
Chapter XIII. – At Folliott Court.
Chapter XIV. – Rescued.
Chapter XV. – A Promise of Better Days.
Chapter XVI. – Apprehensions.
Chapter XVII. – Beatrix Still in Trouble.
Chapter XVIII. – Befriended again by Sir Lionel.
Chapter XIX. – What Came of Sir Lionel's Protection.
Chapter XX. – Another Enemy.
Chapter XXI. – Sir Lionel's "Intentions."
Chapter XXII. – Two Newspaper Advertisements.
Chapter XXIII. – The Impostor's Treachery.