On Gertrude Wynn's wedding day, she overhears part of a heated discussion between her new husband and father-in-law., resulting in misunderstanding and estrangement between the newlyweds.
Written by "Mrs. Georgie Sheldon" (Sarah Elizabeth Forbush Downs 1843–1926), and copyright 1886, 1887, 1893 by Street and Smith.
Transcribed and edited by Jeffrey Merrow from the A. L Burt edition. 23 Chapters, 79,000 words.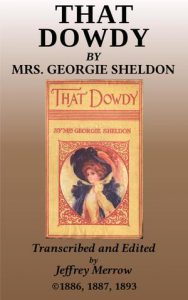 That Dowdy for Kindle at Amazon
That Dowdy epub for Nook at Barnes and Noble
CONTENTS.
Chapter I. – A Father's Threat.
Chapter II. – "That Dowdy."
Chapter III. – Allan's Proposal.
Chapter IV. – Betrothal and Marriage.
Chapter V. – A Secret Discovered.
Chapter VI. – A Letter and a Surprise.
Chapter VII. – "I Shall Go to Hilton."
Chapter VIII. – Gertrude at School.
Chapter IX. – A Solemn Seal.
Chapter X. – A Double Affliction.
Chapter XI. – Blanch Plays a Trump.
Chapter XII. – A Castaway Rescued.
Chapter XIII. – An Unexpected Meeting.
Chapter XIV. – The Separation.
Chapter XV. – A Strange Adventure.
Chapter XVI. – A Flight and a Pursuit.
Chapter XVII. – Gertrude's Picture.
Chapter XVIII. – An Evening at the Opera.
Chapter XIX. – Two Introductions.
Chapter XX. – Mrs. Archibald's Story.
Chapter XXI. – A Happy Revelation.
Chapter XXII. – After Five Years.
Chapter XXIII. – Threads Gathered Up.