The lives of Captain Samuel Edmiston, lately Captain of Royal Navy, and his young wife Roxanna, are persecuted by Captain Lord Hawkhurst.
Published in the 1800s by Edward Zane Carroll Judson, Sr. (1821-1886) using his pen name "Ned Buntline."
Transcribed and edited from the 1847 Boston edition by Jeffrey Merrow. 48,000 words.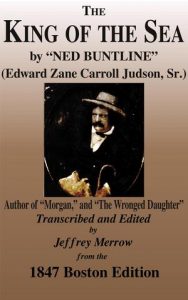 The King of the Sea for Kindle at Amazon
The King of the Sea epub for Nook at Barnes and Noble