"True Love Endures" is the concluding sequel to "Dorothy Arnold's  Escape", and details how Mrs. Roy Davenport deals with her nemesis, the conniving Gilbert Fontaine.
Written by "Mrs. Georgie Sheldon" (Sarah Elizabeth Forbush Downs 1843–1926), and copyright 1883, 1884, 1897 and 1898 By Street and Smith.
Transcribed and edited by Jeffrey Merrow. 35 chapters, 256 pages, 59,000 words.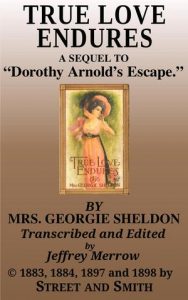 True Love Endures for Kindle at Amazon
True Love Endures epub for Nook at Barnes and Noble
True Love Endures epub at Kobo
CONTENTS
Chapter I. – Dorothy's Anxiety.
Chapter II. – Dorothy's Wrongs.
Chapter III. – Gilbert Fontaine's Device.
Chapter IV. – Plain Talk.
Chapter V. – "I Loathe You."
Chapter VI. – "Leave Him to Me."
Chapter VII. – The Villain at Bay.
Chapter VIII. – Thwarted.
Chapter IX. – The Whispered Question.
Chapter X. – The Pansies.
Chapter XI. – Madie's Story.
Chapter XII. – The Documents.
Chapter XIII. – Dot and Madie.
Chapter XIV. – "I Have Ruined my Life."
Chapter XV. – His Fate Decided.
Chapter XVI. – To Nice.
Chapter XVII. – "You Have Saved my Life."
Chapter XVIII. – A Commotion.
Chapter XIX. – Face to Face.
Chapter XX. – Who Is He?
Chapter XXI. – Auntie Dean.
Chapter XXII. – Unexpected Kindness.
Chapter XXIII. – A Grateful Boy's Tribute.
Chapter XXIV. – An Interrupted Story.
Chapter XXV. – His Other Wife.
Chapter XXVI. – "You Are There."
Chapter XXVII. – The Sin of Years.
Chapter XXVIII. – "I Have Brought Him."
Chapter XXIX. – "You Are My Own Child."
Chapter XXX. – Roy's Impatience.
Chapter XXXI. – A Gentleman from Paris.
Chapter XXXII. – "My Own, Own Roy."
Chapter XXXIII. – "He is My Son."
Chapter XXXIV. – Bertie's Narrative.
Chapter XXXV. – End of the Tangles.