"A Heritage of Love" is the concluding sequel to "The Golden Key", and details how Gerald Winchester's establishes a claim to a banker's fortune to the complete undoing of the scheming John Hubbard.
Written by Mrs. Georgie Sheldon, copyright 1896, 1987, 1905 By Street and Smith.
Transcribed and edited by Jeffrey Merrow. 26 chapters, 236 pages, 57,000 words.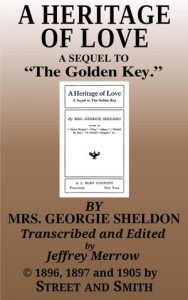 A Heritage of Love for Kindle at Amazon
A Heritage of Love epub for Nook at Barnes and Noble
A Heritage of Love epub at Kobo
CONTENTS.
Chapter I. – A Strange Revelation.
Chapter II. – A Letter From the Dead.
Chapter III. – In the Ashton Cemetery.
Chapter IV. – A Curious Adventure.
Chapter V. – Stolen.
Chapter VI. – A Remarkable Story.
Chapter VII. – The New Guest.
Chapter VIII. – Mr. Plum's Revelation.
Chapter IX. – A Stranger from New York.
Chapter X. – John Hubbard Arrested.
Chapter XI. – An Old Schoolmate.
Chapter XII. – Allison Alive.
Chapter XIII. – "Gerald, Save Me."
Chapter XIV. – Gerald Learns the Truth.
Chapter XV. – Herald of Glad Tidings.
Chapter XVI. – More Revelations.
Chapter XVII. – Planning for the Future.
Chapter XVIII. – A Long-Hidden Diary.
Chapter XIX. – Back in New York.
Chapter XX. – Gerald Faces his Old Enemy.
Chapter XXI. – Preparing for a Wedding.
Chapter XXII. – Allison Finds Her Mother.
Chapter XXIII. – Lady Bromley's Story.
Chapter XXIV. – Secret of the Golden Key.
Chapter XXV. – The Mysterious Key.
Chapter XXVI. – The Wedding.