"The Little Marplot" or, "How Ruth Won Her Heritage"
chronicles the challenges faced by Ruth Reynolds and her nemesis Inez Gordon.
Written by "Mrs. Georgie Sheldon" (Sarah Elizabeth Forbush Downs 1843–1926), it was published in 1895-1896 as a newspaper serial, and later in book form.
Transcribed and edited by Jeffrey Merrow from the 1902 A. L. Burt print edition.
43 chapters, 317 pages, 107,000 words.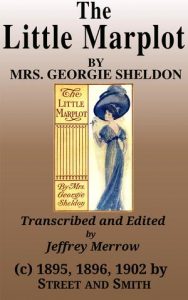 The Little Marplot for Kindle at Amazon
The Little Marplot epub for Nook at Barnes and Noble
The Little Marplot epub at Kobo
CONTENTS.
Chapter I. – A Lost Purse.
Chapter II. – A Strange Legacy.
Chapter III. – An Ardent Lover Wins His Point.
Chapter IV. – Two Enraged Women.
Chapter V. – After the Wedding.
Chapter VI. – A Bride's Strange Experience.
Chapter VII. – Only Half-Convinced.
Chapter VIII. – A Serious Loss.
Chapter IX. – In Confidence.
Chapter X. – A Startling Apparition.
Chapter XI. – A Serpent in Eden.
Chapter XII. – Inconstancy.
Chapter XIII. – The Scheming Woman's Triumph.
Chapter XIV. – From Bad to Worse.
Chapter XV. – When Love is Dead.
Chapter XVI. – A Husband's Confession.
Chapter XVII. – A Spy in the Camp.
Chapter XVIII. – A Deadly Blow.
Chapter XIX. – An Unlocked-for Defeat.
Chapter XX. – "Thy Will Be Done."
Chapter XXI. – Ruth Beards the Lion.
Chapter XXII. – A Fortunate Experiment.
Chapter XXIII. – An Infant For Sale.
Chapter XXIV. – An Annoying Discovery.
Chapter XXV. – A Ghost of the Past.
Chapter XXVI. – At Bay.
Chapter XXVII. – An Old Friend.
Chapter XXVIII. – Life's Richest Blessing.
Chapter XXIX. – An Unwelcome Visitor.
Chapter XXX. – An Interesting Story.
Chapter XXXI. – The Lost is Found.
Chapter XXXII. – Diamond Cut Diamond.
Chapter XXXIII. – Like the Knell of Doom.
Chapter XXXIV. – Wasted Sympathy.
Chapter XXXV. – A Heartless Woman's Plans.
Chapter XXXVI. – 'Twixt Cup and Lip.
Chapter XXXVII. – Beyond Forgiveness.
Chapter XXXVIII. – A Midnight Encounter.
Chapter XXXIX. – Alone in the World.
Chapter XL. – Thwarted.
Chapter XLI. – The Secret at Last.
Chapter XLII. – The Rothwick Treasure-Vault.
Chapter XLIII. – Reunited.