Lawyer Field has presented the case of Laura Pomeroy claiming sole rights to inherit the Maxwell D. Remington estate, while Agnes is lost to all of her friends, lying ill in an unknown hospital ward.
Written by "Mrs. Georgie Sheldon" (Sarah Elizabeth Forbush Downs 1843–1926), "Her Heart's Victory" is the conclusion to the novel "Max: A Cradle Mystery."
Transcribed and edited (complete, unabridged, no missing pages) by Jeffrey Merrow from the A. L. Burt printed edition. 23 Chapters, 268 pages, 73,000 words.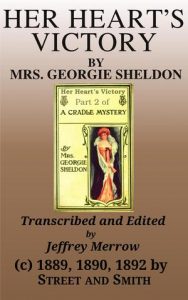 Her Heart's Victory for Kindle at Amazon
Her Heart's Victory epub for Nook at Barnes and Noble
Her Heart's Victory epub at Kobo
CONTENTS.
Chapter I. – Max is Subjected to a Strong Temptation.
Chapter II. – Mrs. Remington Resigns Everything.
Chapter III. – Max Finds a Situation.
Chapter IV. – Startled by a Strange Cry.
Chapter V. – A Strange Discovery.
Chapter VI. – Agnes Begins to Recover.
Chapter VII. – A Reconciliation.
Chapter VIII. – A Visit to an Old Acquaintance.
Chapter IX. – A Final Reckoning.
Chapter X. – A Pinching Process.
Chapter XI. – Mr. Archibald Adopts Agnes.
Chapter XII. – Max Meets a Relative.
Chapter XIII. – The Remington Scapegrace.
Chapter XIV. – Max Wins the Desire of his Heart At Last.
Chapter XV. – Laura is informed that Her Father Lives.
Chapter XVI. – Laura is Introduced to Her Father.
Chapter XVII. – Mr. Trowbridge's Proposal to Laura.
Chapter XVIII. – A Mansion for the Bride-Elect.
Chapter XIX. – A Message From the Dead.
Chapter XX. – "Stop! You Have Gone Far Enough!"
Chapter XXI. – An Heirloom Lost and Found.
Chapter XXII. – A History of the Cradle.
Chapter XXIII. – An Ideal Wedding.