The Lost Heir of Linlithgow, or simply, "The Lost Heir."
Trusting that he acts in the best interest of all involved, Doctor Seton tells young Eglantine that her poor infant child has died, but he secretly gives it to another grieved patient who has actually lost her newborn. And so the young heir grows up unbeknownst to his regal parents.
Written by Emma Dorothy Eliza Nevitte Southworth (1819–1899) and Copyright 1872 by Peterson & Brothers.
Transcribed and edited by Jeffrey Merrow from the Philadelphia printed edition. 570 pages. 168,000 words.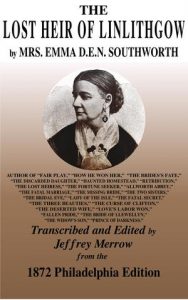 The Lost Heir of Linlithgow for Kindle at Amazon
The Lost Heir of Linlithgow epub for Nook at Barnes and Noble