The Prince of Darkness, published in serial form also as "The Outcast" tells the tale of Wolfgang Wallraven and Regina Fairfield.
Containing also: "The Broken Engagement," "Winny," and "The Thunderbolt to the Hearth," all by Emma Dorothy Eliza Nevitte Southworth (1819–1899).
Transcribed and edited by Jeffrey Merrow from the 1869 Philadelphia print edition.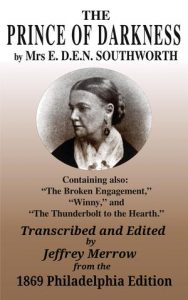 The Prince of Darkness for Kindle at Amazon
Alternate titles: Hickory Hall, or the Outcast; Sylvia, or the Shadow of Crime; The Bride's Dowry