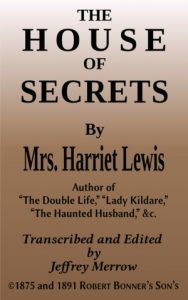 Lady Leopolde Wycherly, the present owner and occupant of Wycherly Castle, invites a number of guests to spend the summer season at the castle.
Among the invited guests are Basil Montmaur, and Lady Leopolde's cousin, the current Earl of Templecombe, both of whom are suitors to the Lady Leopolde.
The Marquis of Waldemere is bold enough to invite himself to join the group for the month, during which time the secrets of the castle are discovered.
Written by Mrs. Harriet Newell (O'Brien) Lewis (1841-1878) . Copyright 1875 by Robert Bonner's Sons. 158,000 words.
House of Secrets for Kindle at Amazon
House of Secrets epub for Nook at Barnes and Noble
House of Secrets epub at Kobo