Finding true love is seemingly a life-long challenge for Malcomb Argyle, the heir-apparent of his family estate. And which of the various devious characters will eventually assume the title role?
Written in 1860 by the Mrs. Mary Virginia (Hawes) Terhune, a.k.a Marion Harland, (1830 – 1922), author of "Alone," "Moss Side," and other novels.
Transcribed and edited by Jeffrey Merrow from the 1860, New York edition.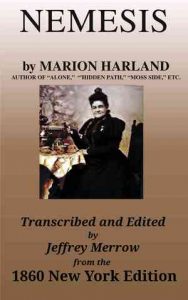 Nemesis epub for Nook at Barnes and Noble