Young Ned Wallingford works to try and support his frail mother, but recurringly encounters his nemesis and the bully of his childhood, Bill Bunting, who aims to thwart Ned's progress at every opportunity.
Written by "Mrs. Georgie Sheldon" (Sarah Elizabeth Forbush Downs 1843–1926), and copyright 1892 by Street and Smith.
252 pages; 23 chapters; 64,000 words.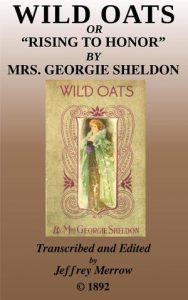 Contents:
Chapter I. – Introduces a Couple of Street Gamins.
Chapter II. – "I'm Bound to Make My Mark in the World."
Chapter III. – "Stop, Edward Wallingford! I'm Not Through With You Yet!"
Chapter IV. – Ned is Taken by Surprise.
Chapter V. – A Prospective Change for Ned and His Mother.
Chapter VI. – "I'll Just Owe Yer One Fer This."
Chapter VII. – "I Will Choose Ned For My Partner."
Chapter VIII. – Miriam Wallingford is Confronted By a Spectre of the Past.
Chapter IX. – Mrs. Wallingford Learns Some Astonishing News.
Chapter X. – "I Hate Him! I Am Glad That He Is Dead!"
Chapter XI. – A Surprise Party is Made for Ned.
Chapter XII. – Miriam's Future is Unexpectedly Provided For.
Chapter XIII. – "Stop! You Young Scamp!"
Chapter XIV. – A Dark Outlook For Ned.
Chapter XV. – Help Comes For Ned From an Unexpected Source.
Chapter XVI. – Benjamin Lawson Meets an Old Acquaintance.
Chapter XVII. – Ned Becomes a Hero.
Chapter XVIII. – Money for a Human Life!
Chapter XIX. – Ned Shows a Little of His Proud Spirit.
Chapter XX. – Ned is Betrayed into a Startling Confession.
Chapter XXI. – No Engagement for Two Years.
Chapter XXII. – A "Western Gentleman" Suddenly Appears in Boston Society.
Chapter XXIII. – Foe Meets Foe.
Wild Oats for Kindle at Amazon
Wild Oats epub for Nook at Barnes and Noble