With an entire inheritance left to the eldest son Montrose Earle, and being turned out of their home, two younger siblings, Constant, and Louisa Earle, must now work for their living, though they have each been raised in luxury. Constant struggles valiantly for a literary career, while trying also to look after his sister.
May Delano, an orphan and heiress, brought up under the kindly governance of her uncle, the Reverend Thomas Delano, and owner of "Warwick," becomes a key figure in the lives of the Earles.
Near the conclusion, Constant Earle resolves to exhaustively explore the "bottomless pit" within the great Mammoth Cave of Kentucky.
Written by author Mansfield Tracy Walworth (1830-1873) in 1869.
Transcribed and edited by Jeffrey Merrow from the 1864 New York edition.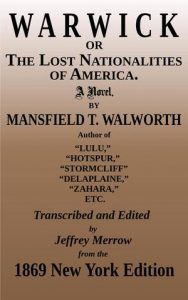 Warwick for Kindle at Amazon
Warwick epub for Nook at Barnes and Noble