"What if there has been a dreadful deception? What if the drowning of our darling were simulated? What if the poor child had been stolen? And we may now ask ourselves, Isabel, what if our lost Lenora were still living!"
These were nearly the last words spoken by Lord Cheslyn to the Lady Isabel Cheslyn just prior to his death. Now Lady Cheslyn's one great purpose is to solve the dark problem of whether their daughter still lives or not.
Cast of characters:
Hubert Molesbury (the elder), the former Lord Cheslyn.
Lady Isabel Cheslyn, widow of the former Lord Cheslyn, Hubert Molesbury.
Ralph Molesbury, the new Lord Cheslyn.
Adolpus Scruggs, Ralph Molesbury's valet, a.k.a Mr. Morrocks.
Dr. Barton, the family physician.
Mr. Kepple, Lord and Lady Cheslyn's family solicitor.
Plumpit, the butler.
Mrs. Wexton, the housekeeper.
Commander Hubert (the younger) Molesbury, a.k.a. Mister Graham.
Malviny Glossop, the former nurse.
Samuel Glossop, Malviny Glossop's husband.
Miranda Glossop, Malviny Glossop's daughter.
Jim Serjeant, the old fisherman.
Polly Serjeant, Jim Serjeant's daughter.
Watt Brocklehadd, Ralph Molesbury's solicitor.
Susannah Brocklehadd, Watt Brocklehadd's daughter.
Mr. Joyce, Watt Brocklehadd's lawyer.
Martha Garden, Watt Brocklehadd's housekeeper.
James Forbisher, Watt Brocklehadd's confidential clerk.
Tommy Dean, and Ben Braillard, Jersey fishermen.
Written by Mrs. Harriet Newell (O'Brien) Lewis (1841-1878) and published in 1881 in the "London Journal." 65000 words.
Transcribed and edited by Jeffrey Merrow.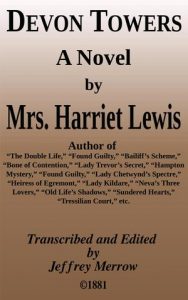 Devon Towers for Kindle at Amazon
Devon Towers epub for Nook at Barnes and Noble