"Audrey's Recompense" depicts the lives of Audrey Waldemar and her young charge Richmond whom she rescues from a life of poverty and hardship.
Written by "Mrs. Georgie Sheldon" (Sarah Elizabeth Forbush Downs 1843–1926), it was published in 1885-1886 newspaper serial form as "Audrey's Recompense" and also under the title "After Many Days."
Transcribed and edited by Jeffrey Merrow from the 1886 A. L. Burt print edition.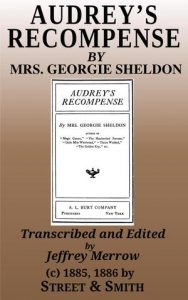 Audrey's Recompense for Kindle at Amazon