"Cecil Rosse," the sequel to "Edith Trevor's Secret," ("Lady Trevor's Secret,") portrays the trials of Cecil Rosse, the reputed niece of the pastor of Zorlitz, but her real parentage remains a mystery.
Miss Rosse and her faithful attendant Gretchen are imprisoned for months in a dreary old castle in the Highlands, and they go through any number of unpleasant and exciting experiences.
Written by Mrs. Harriet Newell (O'Brien) Lewis (1841-1878) and originally printed in serial form as "Lady Trevor's Secret," and as "Mystery of Cecil Rosse."
Copyright 1877 and 1892 by Robert Bonner' Sons.
The Ledger Library No. 60.
Eagle Series No. 371
Transcribed and edited by Jeffrey Merrow from the 1892 New York edition.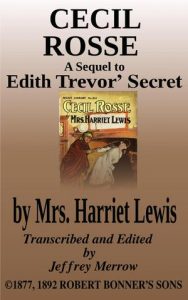 Cecil Rosse for Kindle at Amazon
Cecil Rosse epub for Nook at Barnes and Noble