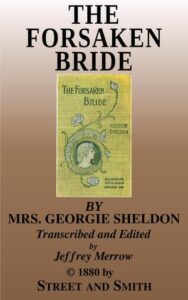 One of Georgie Sheldon's earliest novels, "The Forsaken Bride" is actually about two "Forsaken Brides."
Sir Dudley Durward, the "Earl of Durward," is so callous and neglectful of his wife that her devoted love for him is finally crushed, and she plans a means of avenging his cruelty.
The Forsaken Bride Kindle edition at Amazon
Written by "Mrs. Georgie Sheldon" (Sarah Elizabeth Forbush Downs 1843–1926), and copyright 1880
By Street and Smith.
Printed in serial form in 1880 in The New York Ledger, and The New Zealand Herald.
Printed also in serial form as "Abandoned" in The Maitland Mercury in 1880.