Against his wishes, and risking his wrath, General Hastings' daughter Reine elopes with the heir of Waldron Towers.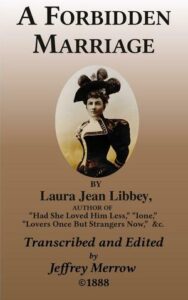 Written by Laura Jean Libbey (1862–1924) and copyright 1889.
33 Chapters, 65,700 words.
A Forbidden Marriage Kindle edition at Amazon
Chapter I. Coming Events Cast their Shadows Before.
Chapter II. General Hastings' Daughter.
Chapter III. "I Warned You Against Him."
Chapter IV. A Fatal Wooing.
Chapter V. "I Would Rather See My Daughter Dead than Give Her  to You."
Chapter VI. "You Must Learn to Forget Him."
Chapter VII. Reine Bows to the Inevitable.
Chapter VIII. "Where is the Bride?"
Chapter IX. The Detective on the Trail.
Chapter X. The Heir of the Towers.
Chapter XI. A Mystery.
Chapter XII. The Elopement.
Chapter XIII. Thorns in the Bridal Wreath.
Chapter XIV. "She Chose Her Own Path, Now Let Her Follow It."
Chapter XV. "I Wish to Heaven I had not Married You."
Chapter XVI. "Would it End in a Duel?"
Chapter XVII. "Oh Cruel Love whose End is Scorn."
Chapter XVIII. "Great Heaven!—It is Reine!"
Chapter XIX. A Noble Foe.
Chapter XX. Out in the Darkness and the Storm.
Chapter XXI. "You did not Wed a Saint when You Married Me."
Chapter XXII. An Unexpected Encounter.
Chapter XXIII. The Deserted Bride.
Chapter XXIV. You are Wanted in Haste.
Chapter XXV. Thrown on the Merciless World.
Chapter XXVI. One Kind Editor.
Chapter XXVII. I have Come Home to Die.
Chapter XXVIII. Man is but Mortal.
Chapter XXIX. A Storm on the Florida Coast.
Chapter XXX. Life or Death.
Chapter XXXI. Unhappy is the Bride that the Rain falls on.
Chapter XXXII. Mystery and Woe.
Chapter XXXIII. The Wages of Sin is Death.