The old village parson is replaced, and before long love blooms between Alice Chester and the young Reverend Milton Sinclair. But Colonel Chester blocks their marriage, and grants the hand of his daughter to General Garnet.
The Discarded Daughter or, The Children of the Isle, written by Emma Dorothy Eliza Nevitte Southworth (1819–1899). Transcribed and edited by Jeffrey Merrow from the 1852 A. Hart edition. 46 Chapters, 147,800 words.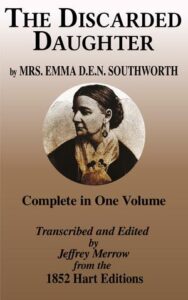 The Discarded Daughter Kindle edition at Amazon
Chapters:
Introductory. St. Clara's Isle.
I. Mount Calm.
II. The New Suitor.
III. The Husband's and the Father's Tyranny.
IV. The Madness and Flight of Alice.
V. The Wild Appeal.
VI. The Husband's Authority.
VII. Country Neighbours.
VII. Hutton of the Isles.
IX. The Bride of the Isles.
X. Hutton Lodge.
XI. The Nocturnal Visitors.
XII. The Maiden Wife.
XIII. The Patience of Alice.
XIV. Alice's Visit to Hutton Isle.
XV. Night and Storm on the Isle—Child of the Wreck.
XVI. The Desolate House.
XVII. Vanishing of Agnes.
XVIII. The Elfin Girl.
XIX. Elsie.
XX. The Ball—The Unexpected Guest.
XXI. The New-found Heir.
XXII. Devotion of Love.
XXIII. Elsie in the Attic.
XXIV. Cruelty—A Chamber Scene.
XXV. Marriage.
XXVI. "The Heart Over-tasked."
XXVII. The Wife's Trust.
XXVIII. Life's Storm and Soul's Shelter.
XXIX. Day After the Wedding.
XXX. Deep Dell—Country Tavern.
XXXI. The Vault.
XXXII. The Children of the Isle.
XXXIII. The Maninosie Gatherers.
XXXIV. The Footstep.
XXXV. The Night Visit.
XXXVI. Nettie in the Mansion.
XXXVII. The Interview.
XXXVIII. Elsie in the Log Cabin.
XXXIX. What Came Next.
XL. The Flight of Time.
XLI. Light on the Island.
XLII. The Beehive.
XLIII. Hugh and Garnet.
XLIV. The Struggle of Love and Ambition.
XLV. Elsie's Fortunes.
XLVI. The Secret Revealed.