At the death of the old lord of Pommeroy, it's not altogether clear which of his four sons will reign as the new lord of Pommeroy Abbey.
"There's the dead lord of Pommeroy in the haunted room at this blessed moment, sir," she whispered; "I have seen him with my own eyes."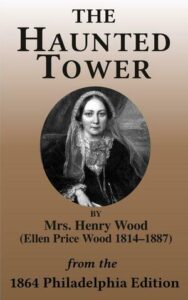 Written by Mrs. Henry (Ellen Price) Wood 1814―1887.
Transcribed from the T. B. Peterson edition, copyright 1864. 13 chapters, 169 pages, 52,400 words.
Haunted Tower for Kindle at Amazon
Chapters:
Alice Wylde.
The False Lover.
The Unwilling Bride.
The Storm.
The Recovery.
The Haunted Room.
The False Brother.
The Fatal Encounter.
The Proposal.
The Home-bringing.
The Ghost.
The Fatal Prophecy.
Conclusion.