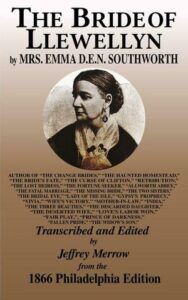 The domineering second wife of General Griffith Llewellyn resolves that her own son, James Stukely, who is of no kin to the Llewellyn family, should become the master of the Llewellyn estate.
Some of the characters overlap with The Widow's Son.
Written by Emma Dorothy Eliza Nevitte Southworth (1819–1899).
Transcribed and edited by Jeffrey Merrow from the 1866 T. B. Peterson edition. 53 chapters, 550 pages, 166,000 words.
The Bride of Llewellyn for Kindle at Amazon
Chapters:
I. – The Traitress.
II. – The Treason.
III. – Arthur and Mrs. Llewellyn Face to Face.
IV. – The Elopement.
V. – The Flight of Gladys.
VI. – The Marriage.
VII. – The Marriage Breakfast.
VIII. – Pursuit.
IX. – The Brief Honeymoon.
X. – The Swoop of the Vulture.
XI. – The Prey.
XII. – Ominous.
XIII. – The Fell Watch.
XIV. – On the Road to Ruin.
XV. – The Vulture and the Dove.
XVI. – A Fearful Discovery.
XVII. – Ensnared.
XVIII. – In the Vulture's Talons.
XIX. – The Palsied Heart.
XX. – A Horrible Revelation.
XXI. – Guile for Guile.
XXII. – The Foiler Foiled.
XXIII. – The Marriage Scene.
XXIV. – Relentless Persecution.
XXV. – The Old House in the Wood.
XXVI. – Startling Apparition.
XXVII. – The Captive Mother.
XXVIII. – A Shock.
XXIX. – A Rout.
XXX. – Anger.
XXXI. – Resolution.
XXXII. – Mr. Stukely Asserts Himself.
XXXIII. – An Humble Friend at Need.
XXXIV. – The Escape of Gladys.
XXXV. – The Fugitive's Shelter.
XXXVI. – Freedom and Hope.
XXXVII. – Entrapped.
XXXVIII. – The Hod-bearer.
XXXIX. – The Dead Alive.
XL. – The Mystery of a Lost Identity.
XLI. – Lost Links in a Life.
XLII. – A New Comer.
XLIII. – A Night of Alarm.
XLIV. – The Next Morning's News.
XLV. – A Ride in Search of a Lost Love.
XLVI. – The Ride Ended.
XLVII. – Utter Despair.
XLVIII. – A Proper Tool for Villainy.
XLIX. – The Fortunate Third Trial.
L. – Vengeance.
LI. – Perfect Peace.
LII. – Magnanimity.
LIII. – Presents.