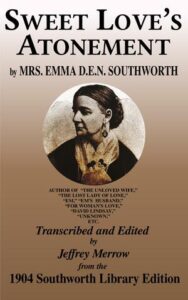 Servia Godfrey is miraculously saved from drowning along with a little Spanish-speaking child named Zenobia, and the two of them make their new home at Horah Hall.
Written by Emma Dorothy Eliza Nevitte Southworth (1819–1899) and copyright in 1904.
Transcribed and edited by Jeffrey Merrow from the Street and Smith printed edition. 34 chapters. 250 pages. 88,400 words.
Sweet Love's Atonement for Kindle at Amazon
Chapters:
I. – Old Horah Hall.
II. – Horror at Horah Hall.
III. – Celia and Young Murdok.
IV. – At The Old Godfrey Farm.
V. – On the "Errand Girl."
VI. – Servia and Her Charge.
VII. – Nat Pryor, of The Notches.
VIII. – A Mountain Hamlet.
IX. – Servia's New Service.
X. – Servia's Victory.
XI. – Murdok, The Heir.
XII. – After Wharton.
XIII. – Poor Ben.
XIV. – Searching and Dodging.
XV. – The End of Wharton.
XVI. – The Fate of a Jonah.
XVII. – Oliver.
XVIII. – Zenobia, The Unknown.
XIX. – Gilbert Godfrey.
XX. – Vulture and Eaglet.
XXI. – Isabel Horah's Fears and Sorrows.
XXII. – A Surprise at "The Notches."
XXIII. – Christmas in the Negro Quarters.
XXIV. – "Jim."
XXV. – Jemima Abbace.
XXVI. – Trouble at Horah Hall.
XXVII. – At the Old University.
XXVIII. – "Hope Deferred."
XXIX. – A Heart of Fire.
XXX. – Between Love and Rage.
XXXI. – An Anxious Gathering.
XXXII. – A Welcomed Departure.
XXXIII. – Nothing to Live For.
XXXIV. – A Calm Before the Storm.