Gaynell Esterbrook, a young and beautiful mill worker, becomes the secret bride of the boss's son and heir to the mill, and suffers persecutions from her co-workers and would-be rivals.
Full title: WILLFUL GAYNELL; OR, THE LITTLE BEAUTY OF THE PASSAIC COTTON MILLS.
A Romantic Story of the Life and Love of a Lovely Working Girl.
Written by Laura Jean Libbey (1862–1824) and copyright 1890 by Norman Munro. 40 Chapters, 87,000 words.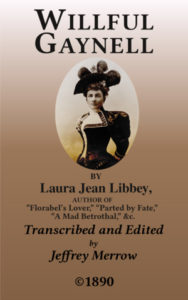 Willful Gaynell for Kindle at Amazon