"Captain Osmond" wins the admiration of young, impetuous Nadine Halsey when he saves her from the ravages of a mad dog.
Gilbert Wetherell, a rival for the love of Nadine, meets "Captain Osmond" in a duel, while her own cousin and confidant, Maud, is also her rival for the affections of Gilbert.
A Mad Betrothal for Kindle at Amazon
Written by Laura Jean Libbey (1862–1824) and copyright 1888 by Robert Bonner's Sons. 46 chapters, 76,000 words.
A Mad Betrothal Paperback edition from Amazon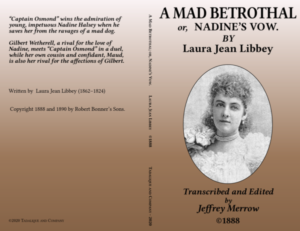 Chapters:
I. – "I Would Love Him if I Could; but I Cannot, Papa."
II. – The Handsome, Dashing, Gallant Young Captain.
III. – "Evidently a Fatal Mistake has been Made."
IV. – "He Shall Never Take You From Me."
V. – "It Can Never Be; I Command You to Give your Lover Up."
VI. – The Isolated River Road that leads through Bryly Woods.
VII. – As the Sun Rises a Life Drifts Out.
VIII. – A Cruel Falsehood that Changes the Current of Three Lives.
IX. – "Did Papa Really Wish Me to Marry Him, Maudie?"
X. – "You Shall Remain Here Until You Do Consent, Though it be Forever."
XI. – To Nadine's Dismay She Found, When the Woman Quitted the Room, She Locked the Door Carefully.
XII. – Love to Hatred Turned.
XIII. – A Cruel Revenge.
XIV. – "If I Should Find My Lover, Only to Discover him Married to Another, I Should Fall Down on my Face—Dead."
XV. – Nadine's Thrilling Escape.
XVI. – His Wife.
XVII. – "Is Your Answer 'Yes' or 'No' My Darling?" He Asked, Eagerly.
XVIII. – Maud Dorchester's Jealousy.
XIX. – Wedding Preparations.
XX. – "Unhappy is the Bride on Whom the Rain Falls."
XXI. – Captain Osmond's Fate.
XXII. – Poor Nadine Meets Her Doom Upon Her Wedding Day.
XXIII. – She has Thought Less of Breaking my Heart, than a Child Thinks of Breaking a Toy.
XXIV. – Nadine Makes a Daring Escape.
XXV. – Nadine Learns the Contents of the Mysterious Ebony Box.
XXVI. – While He had been Speaking, a Fertile Plot had Entered Maud's Brain.
XXVII. – "Tell her that Her Wish shall be Obeyed, Maud. We Shall be Henceforth as Strangers."
XXVIII. – "For the Old Love's Sake."
XXIX. – "I will Save You, Nadine, or Die With You."
XXX. – "I Cannot Tell You What Parted Us."
XXXI. – Watching and Waiting in Vain.
XXXII. – Love's Rosy Dream Enthralls the Handsome Artist.
XXXIII. – The Hasty Trip to Europe.
XXXIV. – The Terrible Calamity in Mid Ocean.
XXXV. – Saved, but for a More Cruel Fate.
XXXVI. – "Who would Inhabit this Bleak World Alone?"
XXXVII. – A Daring Scheme Successfully Carried Out.
XXXVIII. – Faithful Unto Death.
XXXIX. – "I Love him Still."
XL. – Recognized.
XLI. – "I will Lay Aside my Pride, and Send for Him."
XLII. – "Her Face is so Familiar—I am Sure We have Met Before."
XLIII. – Nadine and Jessie meet Face to Face.
XLIV. – Let me Turn my Face to the Wall—and Die.
XLV. – He will Never Forgive—and Forget.
XLVI. – Love's Young Dream is Realized at Last.