Beryl's Husband, or, The Hawkhurst Inheritance.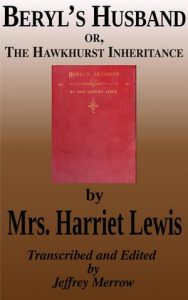 A young English girl, who has been educated at a boarding-school at Vevay, is suddenly left without natural guardians and means of support. Her beauty and interesting character attract a young English traveller, who induces her to run away with him and marry him.
Written by Mrs. Harriet Newell (O'Brien) Lewis (1841-1878) and first published in serial form in 1874.
Transcribed and edited by Jeffrey Merrow. 47 chapters, 134,000 words.
Copyright 1874, 1890 and 1891, by Robert Bonner's Sons.
Reprinted as "Beryl Star's Trials" in the Maitland Mercury of 1892.
Reprinted in The Australian Journal in 1889—1890.
Contents:
I. – In Far Geneva.
II. – Thunder in a Clear Sky.
III. – News From England.
IV. – Huplick's Plan Carried Out.
V. – As to the Plot.
VI. – Alone.
VII. – Married Dragons.
VIII. – The 20th of October.
IX. – The Mistress of Cragthorpe.
X. – Starwood.
XI. – The History of Jenny Star.
XII. – Conyers Secures a Clear Field.
XIII. – "Now or Never."
XIV. – Developing a Two-fold Purpose.
XV. – The Beginning of a New Life.
XVI. – Diamond Cut Diamond!
XVII. – Conyers' Villainy Prospers.
XVIII. – A Pearl out of the Gutter.
XIX. – An Unlooked-for Clue.
XX. – Prosperous.
XXXI. – In Park Lane.
XXII. – Mrs. Margle's New Lodger.
XXIII. – In the Fog.
XXIV. – Octavia Makes an Enemy.
XXV. – A Letter and its Answer.
XXVI. – Conyers Follows Octavia's Example.
XXVII. – A White Messenger.
XXVIII. – At St. Just's.
XXIX. – Octavia's Suspicions.
XXX. – Lord Hawkhurst Favors Octavia's Plans.
XXXI. – What Beryl Did.
XXXII. – Beryl Finds Refuge.
XXXIII. – Sherwald on the Right Track.
XXXIV. – A Bad Look-out for Conyers.
XXXV. – At the Embroidery Shop.
XXXVI. – Husband and Wife.
XXXVII. – A Glimpse of the Missing Bride.
XXXVIII. – Guided by Fate.
XXXIX. – A Dawning of Light.
XL. – Face to Face.
XLI. – Lord Hawkhurst at Starwood.
XLII. – A Startling Discovery.
XLIII. – In the Stronghold of her Enemies.
XLIV. – The Destroyer and the Healer.
XLV. – In the Sick-room.
XLVI. – A Revealing of Truth.
XLVII. – The Dawn.