A sequel to "The Lily of Mordaunt."
"He Loves Me For Myself" resumes the story of "Arley" Wentworth and Philip Paxton from its pause at the conclusion of "The Lily of Mordaunt."
Written by "Mrs. Georgie Sheldon" (Sarah Elizabeth Forbush Downs 1843–1926), and copyright 1884, and 1899 By Street and Smith.
Transcribed and edited by Jeffrey Merrow from the A. L. Burt edition. 26 Chapter, 252 pages, 64,000 words.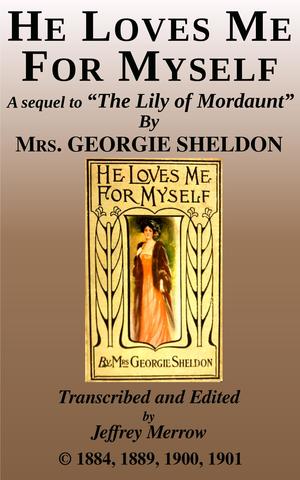 He Loves Me For Myself for Kindle at Amazon
He Loves Me For Myself epub for Nook at Barnes and Noble
Chapters:
I. – A Friend in Need.
II. – Philip Paxton's Return.
III. – Jane Collins at Home.
IV. – The Truth Told.
V. – Adding Insult to Injury.
VI. – Philip Paxton's Letter.
VII. – Fortune's Wheel.
VIII. – The Ring.
IX. – Mrs. Bancroft's Narrative.
X. – The Crash on the Railroad.
XI. – A "Lady Born!"
XII. – The Good Samaritan.
XIII. – The Strange Letter.
XIV. – In a Dilemma.
XV. – Arley's Amazement.
XVI. – Lady Alice.
XVII. – Atonement.
XVIII. – I Am His Wife.
XIX. – Where am I?
XX. – A Noble Manhood Restored.
XXI. – Perfect Faith.
XXII. – Wil Hamilton.
XXIII. – Mimosa.
XXIV. – Homeward Bound.
XXV. – Can it be True?
XXVI. – Lady Paxton.