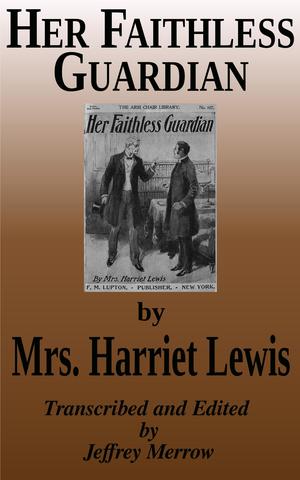 Driven to desperation, Emilie Howe proposes a hasty marriage to an apparent stranger, and by doing so hopes to outwit her scheming guardian.
Written by Mrs. Harriet Newell (O'Brien) Lewis (1841-1878) and published as F. M. Lupton's The Arm Chair Library No. 107.
Transcribed and edited by Jeffrey Merrow. 30 chapters, 71000 words.
Her Faithless Guardian for Kindle at Amazon
Her Faithless Guardian epub for Nook at Barnes and Noble
Her Faithless Guardian epub at Kobo
CONTENTS.
Chapter I. – Driven to Despair.
Chapter II. – A Strange Proposal and its Acceptance.
Chapter III. – The Appointment Kept.
Chapter IV. – Come and Gone.
Chapter V. – The Bride's Return Home.
Chapter VI. – Called to Account.
Chapter VII. – An Investigation.
Chapter VIII. – The Conspirators.
Chapter IX. – Taking Her Place.
Chapter X. – The Proceedings of Sir Morgan.
Chapter XI. – Acting upon his Good Resolutions.
Chapter XII. – Miss Chetwold.
Chapter XIII. – News of his Bride.
Chapter XIV. – Miss Chetwold's Ultimatum.
Chapter XV. – The Bride at Home.
Chapter XVI. – A Friend of the Right Stamp.
Chapter XVII. – New Schemes and Projects.
Chapter XVIII. – Catching a Tartar.
Chapter XIX. – The Bride's Country Home.
Chapter XX. – Miss Dorothy's Overtures.
Chapter XXI. – An Intruder and a Defender.
Chapter XXII. – Husband and Wife.
Chapter XXIII. – A Villain's Opportunity.
Chapter XXIV. – A Successful Proceeding.
Chapter XXV. – In a Bad Situation.
Chapter XXVI. – Mr. Woodson Defines his Wishes.
Chapter XXVII. – The Captivity of Lady Chetwold.
Chapter XXVIII. – From Darkness to Darkness.
Chapter XXIX. – Light at Last.
Chapter XXX. – The Dawn of Gladness.