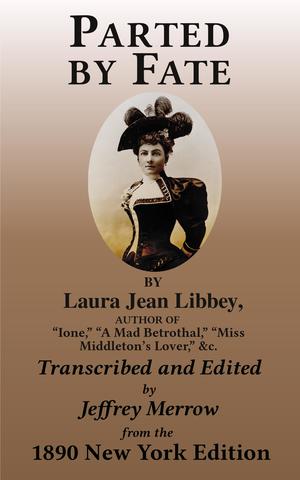 On the deathbed of her mother, little Uldene is committed to the care of the Mark and Nella Sefton, with the injunction that "She must never love, for she must never marry."
Written by Laura Jean Libbey (1862–1824) and copyright 1887, 1890 by Robert Bonner's Sons.
Transcribed and edited by Jeffrey Merrow. 40 chapters, 73,000 words.
Parted by Fate for Kindle at Amazon
Parted by Fate epub for Nook at Barnes and Noble
Parted by Fate epub at Kobo
CONTENTS.
Chapter I. – The Beautiful, Mysterious Stranger.
Chapter II. – The Girl to whom Love is a Sealed Book.
Chapter III. – "Love's Young Dream."
Chapter IV. – A Rival's bitter Jealousy.
Chapter V. – At the Mask Ball.
Chapter VI. – A Rival's Treachery.
Chapter VII. – A Fatal Mistake.
Chapter VIII. – A Duel and an Abduction.
Chapter IX. – One Night's Mystery.
Chapter X. – What Happened at Midnight.
Chapter XI. – A Great Surprise.
Chapter XII. – The Fulfillment of a Terrible Curse.
Chapter XIII. – "I Would Rather See You Dead."
Chapter XIV. – Close Beside the Roadside.
Chapter XV. – "So Perish All My Hopes."
Chapter XVI. – The Young Bride.
Chapter XVII. – A Noble Heart.
Chapter XVIII. – They Were Not Alone.
Chapter XIX. – "She has Wrecked my Life!"
Chapter XX. – Uldene Met the Gaze of the Stranger.
Chapter XXI. – The Fatal Secret.
Chapter XXII. – "Cruel Fate has Parted Us."
Chapter XXIII. – A Fatal Mistake.
Chapter XXIV. – "I was to Deliver this Letter."
Chapter XXV. – "It Is Best."
Chapter XXVI. – The Rival Lovers.
Chapter XXVII. – Every Heart Finds its True Mate.
Chapter XXVIII. – The Rival Lovers.
Chapter XXIX. – "Be My Bride, Verlie."
Chapter XXX. – "Rest in the Dark Waters."
Chapter XXXI. – Uldene Finds a Friend.
Chapter XXXII. – Preparations for Verlie's Wedding.
Chapter XXXIII. – A Broken Love-dream.
Chapter XXXIV. – The Decree of Fate.
Chapter XXXV. – A Fatal Mistake.
Chapter XXXVI. – Guilty or Not Guilty?
Chapter XXXVII. – "I Threw the Letter in the Fire."
Chapter XXXVIII. – The Curse.
Chapter XXXIX. – "I Wouldn't Marry You."
Chapter XL. – "Live For My Sake."