The story surrounding the heirs to Lancelot Floyd, the current Lord Waldemar of the vast combined estates of Arlyn and Floyd.
Written by Mrs. Harriet Newell (O'Brien) Lewis (1841-1878) and published in 1872 in serial form in "The London Journal," and "The New York Ledger," and as "Honor Glint," in the "Taranaki Herald."
Transcribed and edited by Jeffrey Merrow from multiple sources.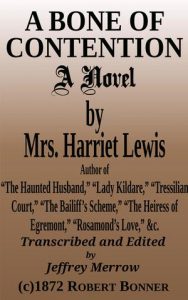 Bone of Contention for Kindle at Amazon
Bone of Contention epub for Nook at Barnes and Noble.