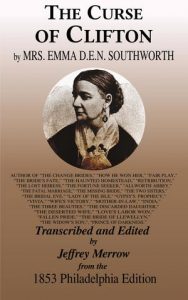 Although betrothed to his cousin, Miss Carolyn Gower Clifton, of Clifton Place, Captain Archer Clifton, of the ― Regiment of Cavalry, becomes infatuated by Katherine Cavanaugh, a young "mountain girl."
Written by Emma Dorothy Eliza Nevitte Southworth (1819–1899) and copyright in 1852 by Deacon and Peterson.
Transcribed and edited by Jeffrey Merrow from the 1852 Philadelphia edition. 48 chapters. 467 pages. 165,000 words.
Complete in one volume.
Also published as: "The Curse of Clifton;" or, "The Widowed Bride."
Also published as: "The Tide of Fate;" or, "The Curse of Clifton."
CONTENTS.
Chapter I. – The Mountain Hut. 17
Chapter II. – Clifton and the Beauties. 42
Chapter III. – Mrs. Clifton, of Hardbargain. 54
Chapter IV. – The Tide of Fate. 65
Chapter V. – The Tide of Fate (Continued) [ The Old Man and His Bride. ] 75
Chapter VI. – The Ruptured Tie. 84
Chapter VII. – The Severed Hearts. 102
Chapter VIII. – Lost Affection. 115
Chapter IX. – Woman's Pride. 142
Chapter X. – The Sisters. 156
Chapter XI. – Mrs. Fairfax and Major Cabell. 161
Chapter XII. – Suspense. 169
Chapter XIII. – Archer Clifton's Sketches. 176
Chapter XIV. – The Discipline of Affliction. 185
Chapter XV. – The Black Seal. 195
Chapter XVI. – Mr. Clifton's Resolution. 203
Chapter XVII. – The Widowed Bride. 208
Chapter XVIII. – The Young Mourner. 217
Chapter XIX. – Confession. 228
Chapter XX. – A Domestic Scene. 235
Chapter XXI. – In the City. 245
Chapter XXII. – Life's Various Phases. 255
Chapter XXIII. – Zuleime. 265
Chapter XXIV. – The Catastrophe. 276
Chapter XXV. – "In Palace Chambers." 294
Chapter XXVI. – Georgia. 313
Chapter XXVII. – Catherine. 324
Chapter XXVIII. – Winter Evenings at the Farm. 329
Chapter XXIX. – The Return. 338
Chapter XXX. – Betrothal. 348
Chapter XXXI. – The Poison Works. 363
Chapter XXXII. – Dedication. 371
Chapter XXXIII. – "The Meekness of Love." 380
Chapter XXXIV. – Catherine's Regency. 397
Chapter XXXV. – Catherine's Progress. 406
Chapter XXXVI. – The Night Journey. 415
Chapter XXXVII. – The Goal. 436
Chapter XXXVIII. – Conclusion. 453