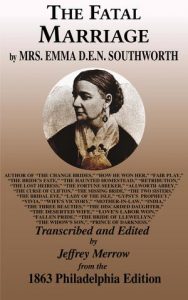 Though irrevocably pledged to another, Mr. Orville Deville, Lieutenant in His Majesty's provincial corps and heir of River-view, marries the young Lionne Delaforêt.
Written by Emma Dorothy Eliza Nevitte Southworth (1819–1899) and copyright 1863 by T. B. Peterson & Brothers.
Also reprinted as "Fatal Marriage or Orville Deville," by the same publisher, and as "Lionne;" or "The Doom of Deville."
Transcribed and edited by Jeffrey Merrow from the 1863 by T. B. Peterson. 41 Chapters, 467 pages, 132,500 words.
The Fatal Marriage for Kindle at Amazon
The Fatal Marriage epub for Nook at Barnes and Noble
The Fatal Marriage epub at Rakuten Kobo
Chapters:
I. – The Outlaw's Daughter.
II. – The Outlaw's Home.
III. – The Outlaw.
IV. – Passion.
V. – Passion and Temptation.
VI. – The Old Manor-House.
VII. – The Lady Adelaide Deville.
VIII. – Which is the Wife?
IX. – The Fair Bride.
X. – Lionne.
XI. – Interview between Adelaide and Lionne.
XII. – Self-Sacrifice.
XIII. – At Bush Creek.
XIV. – Discovery of the Flight.
XV. – Betrayer and Betrayed.
XVI. – Orville end Lionne.
XVII. – The Midnight Walk.
XVIII. – The Rescued Wanderer.
XIX. – Lionne.
XX. – Adeleide.
XXI. – Lionne and the Indian Witch.
XXII. – Lady Adelaide's Woe.
XXIII. – Adelaide's Consolation.
XXIV. – Lake Island and Castle.
XXV. – Death at the Fête.
XXVI. – The Spectre at the Feast.
XXVII. – The Cleaving Curse.
XXVIII. – Vengeance.
XXIX. – An Act of Madness.
XXX. – A Houseless Night Wanderer.
XXXI. – The Stranger's Fate.
XXXII. – The Wife.
XXXIII. – Strange Meetings.
XXXIV. – Melpomene.
XXXV. – The Meeting.
XXXVI. – Storms.
XXXVII. – The Crisis.
XXXVIII. – The Lioness and the Lamb.
XXXIX. – The Curse of an Accomplished Vow.
XL. – The Avenger.
XLI. – Conclusion.